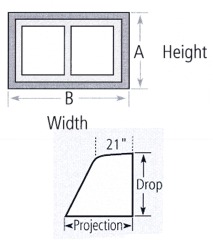 Step-1: Choose the DROP & PROJECTION, using the chart below, that best suits your needs. The DROP associated with the "Window Height" (A) is only a suggestion. This will determine how far down the window the awning will come. You may choose any of the drops within the table you wish. For example Model #6 is described as having a 30" projection and a 20.5" drop.
Step-2: Measure outside of window casing - edge to edge (B). If you mount the awning on the window casing (frame), this measurement is what you need. If you wish to mount the awning on the house wall then you need to add, at least, 1-1/2" on to each side to determine the final measurement. Awnings cannot be mounted on shutters.
Step-3: Color and Pattern Choices:
Select color & pattern that best compliments your home, from our selection.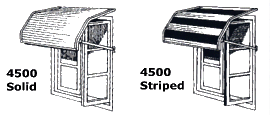 1. Available in solid or striped pattern (No additional cost)
2. Sides are available in solid color only (Series 4500)
3. Undersides of all aluminum canopies are white only
Note: Get the width you need...all widths available in 1" increments.
| | | | | |
| --- | --- | --- | --- | --- |
| Awning Model # | 6 | 7 | 8 | 9 |
| For Window Heights of: | 46" | 56" | 66" | 76" |
| Projection | 30" | 32" | 35" | 38" |
| Drop Approx. | 20.5" | 26" | 29.5" | 36.5" |
Step-4: To Order - Call 1-800-922-4760 with the following information
Step-1
Step-2
Step-3
Quantity
Series 4500
Window Awning Model#
Awning
Width
Base Colour
Accent Colour
Aluminum Window Awning
Do-It-Yourself Aluminum Window Awnings
Other related items our customers have purchased...
Stop the sun from fading carpets, draperies and upholstery by installing a new window awning. We have both fabric  and aluminum window awnings in a fixed or roll up format.

Our manual or motorized vertical rollup shade blinds are a perfect late afternoon protection from the sun.
"Custom Sizes"
We sell pre-packaged and custom made kits. In some of our screen enclosure and patio cover /carport lines there is generally a level of customization available. However, if we know your situation, we can advise on the feasibility of your idea for your patio enclosure or screen room. It may not be that it costs a whole lot more, and it needs to be determined IF it can be done structurally and practically as a Do-It-Yourself application.
Call: 1-800-922-4760 and talk with our experts. We provide personal service and advice on your selection. Please call or email us with your questions and installation advice and tips. We are here to serve. *Delivery Included within Canada. (*Some remote and island ferry access areas subject to a surcharge)

Obtaining necessary permits is the sole responsibility of the purchaser. Customers agree to hold Patio Concepts Inc. and the manufacturer free of any liability for improper installation, maintenance and repair.


**Please note that some items are custom made and are not returnable**
Current delivery is in the 3-4 week range.

To ensure customer satisfaction and correct order details, we 'purposely' do not maintain a shopping cart site.
Call Toll Free 1.800.922.4760 to place your order!