do it yourself kits...
Screened Enclosures, garage shelters and window awnings
Retractable Shade Solutions

Shop by Category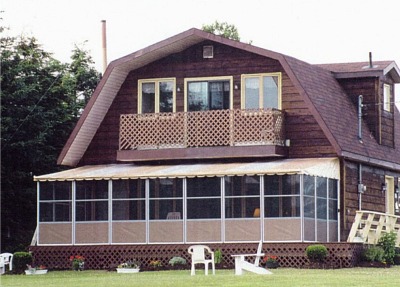 Screen Room Season!
Jardin Replacement tops...
Click here..

Do it yourself window awning kits, deck enclosure kits, garage shelter kits, and backyard storage shed kits are all worthwhile home improvements. You'll enjoy them now, and you'll appreciate the value they add to your home should you
ever go to sell.
Stop the sun from fading carpets, draperies and upholstery by installing a new window awning. We have both fabric and aluminum window awnings in a fixed or roll up format.

Our manual or motorized vertical rollup shade blinds are a perfect late afternoon protection from the sun.
Backyard accents like garden arbours are an easy and inexpensive way to add elegance to any garden-scape.
My Patio Concepts Bookmark this page!
1 . 8 0 0 . 9 2 2 . 4 7 6 0
How to Measure for your Awning
Brasilia Manual & Motorized Retractable Deck Awning
Our line of retractable awnings are designed with the homeowner in mind. Made in Canada with the highest quality internal parts and fabrics the Brasilia line of deck awnings are an easy decision for your backyard. We these quality retractable awnings with various options giving you a wide selection with which to provide shade for your deck or patio. Our line of retractable patio awnings are perfect sun shades in a unique and functional patio canopy design.
Determine the width of the awning (A). This requires a clear span, with no obstructions. The awning needs to be mounted on a continuous uninterrupted plane. Be sure that light fixtures or down spouts are not in the way.

Please be aware that although the awning brackets require a minimum of 8" (inches) to mount (B), you should allow additional space below the awning for proper operation of any awning. The awning will require a total of 12" (inches) of space (G) to function properly.

A minimum of 7'6" is required from the deck or patio to the top of the mounting space (C). See following chart for more details.

Make certain that there are no light fixtures or other obstructions in the way of installation.
C = measurement from top of mounting space to deck
Front Edge Clearance (E)
Projection of 8'
Projection of 10'
7'6" (90")
72"
70"
8' (96")
78"
76"
8'6" (102")
84"
82"
9' (108")
90"
88"
9'6" (114")
96"
94"
10' (120")
102"
100"
The chart above denotes the maximum clearance with the pitch in the uppermost position. Your new awning has been preset to this position at the factory. It does not require any further adjustment. The Brasilia comes with flex-pitch built in so in this case you may adjust the pitch as you see fit!

Now it's fun to control the sun with retractable awnings in high-fashion fabrics, colors and styles. Motorized retractable awnings combine beauty with functionality. You control light and shade with the turn of a crank or the touch of a button. Cool any deck, patio, terrace or balcony on demand with a new retractable awning. With no supports needed coming down to the deck or at 45 degrees to the house wall, they are perfect walk through manual or motorized retractable awnings. Awnings make a better home. Add window awning kits for shade, or door canopy kits for all weather protection. Retractable patio awnings for sun protection on your backyard deck. Trust us for quality products at discounted prices.
Call: 1-800-922-4760 and talk with our experts. We provide personal service and advice on your selection. Please call or email us with your questions and installation advice and tips. We are here to serve. *Delivery Included within Canada. (*Some remote and island ferry access areas subject to a surcharge)
Obtaining necessary permits is the sole responsibility of the purchaser. Customers agree to hold Patio Concepts Inc. and the manufacturer free of any liability for improper installation, maintenance and repair.


**Please note that most items are custom made and are not returnable**
Current delivery is in the 3-4 week range.
To ensure customer satisfaction and correct order details, we 'purposely' do not maintain a shopping cart site.
Call Toll Free 1.800.922.4760 to place your order!
Other related items our customers have purchased...