do it yourself kits...
Screened Enclosures, patio covers, garage shelters and window awnings
New for 2015!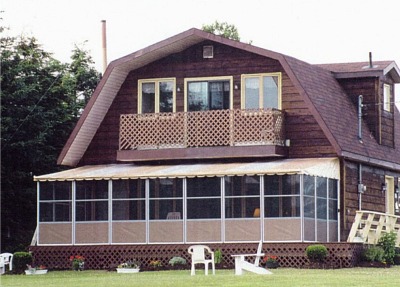 Screen Room Season!
Jardin Replacement tops...
Click here..

Do it yourself window awning kits, deck enclosure kits, garage shelter kits, and backyard storage shed kits are all worthwhile home improvements. You'll enjoy them now, and you'll appreciate the value they add to your home should you
ever go to sell.
My Patio Concepts Bookmark this page!
1 . 8 0 0 . 9 2 2 . 4 7 6 0

Innovative Outdoor Solutions
Do it yourself kits for your patio,
backyard and beyond!

A wide selection of Do-It-Yourself screened enclosures, sheds, patio covers, vinyl arbours, portable garage shelters, equine shelters, retractable patio awnings, outdoor solar shades and window awnings. We represent manufacturers throughout North America and offer you unparalleled service and pricing. All items are Do-It-Yourself kits and come with complete instructions.

Stop the sun from fading carpets, draperies and upholstery by installing a new window awning. We have both fabric and aluminum window awnings in a fixed or roll up format.
Our manual or motorized vertical rollup shade blinds are a perfect late afternoon protection from the sun. Backyard accents like garden arbours are an easy and inexpensive way to add elegance to any garden-scape.
================
Delivery Included!
All pricing includes delivery to your home, business or cottage address in or near most major centres within Canada:


√ Delivery Included!*

√ No Handling Fees

√ Only applicable taxes are extra

*Some exceptions may apply.
*Click for details

What our customers are saying...



If all companies operated the way Glenn and the boys operate their firm the world would be a better place. Thanks for a great buying experience. Oh, and the pricing and quality is top notch.

All the best,


Chris V.

Killingworth, CT
Comments: (Consider this permission to post this comment, if you'd like)
===========================================
"Custom Sizes"
We sell pre-packaged and custom made kits. In some of our screen enclosure and patio cover /carport lines there is generally a level of customization available. However, if we know your situation, we can advise on the feasibility of your idea for your patio enclosure or screen room. It may not be that it costs a whole lot more, and it needs to be determined IF it can be done structurally and practically as a Do-It-Yourself application.