do it yourself kits...
window awning, door canopy, fabric and aluminum awnings
Do it yourself window awning kits, deck enclosure kits, garage shelter kits, and backyard storage shed kits are all worthwhile home improvements. You'll enjoy them now, and you'll appreciate the value they add to your home should you
ever go to sell.
Stop the sun from fading carpets, draperies and upholstery by installing a new window awning. We have both fabric and aluminum window awnings in a fixed or roll up format.

Our manual or motorized vertical rollup shade blinds are a perfect late afternoon protection from the sun.
Backyard accents like garden arbours are an easy and inexpensive way to add elegance to any garden-scape.


My Patio Concepts Inc 1 . 8 0 0 . 9 2 2 . 4 7 6 0 Bookmark this page!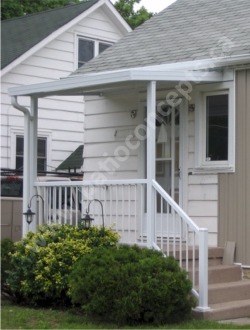 Two gauges of aluminum pans, beams and posts - all in several colors and an unlimited size range! Designed for "on site" final cuts by you, this unit adds value and functionality to any home while giving the homeowner the satisfaction and flexibility to do it themselves.

The aluminum pan system patio covers are ideal for the price conscious home owner, while still giving a practical professional looking finished product.
Check out our specials listed below!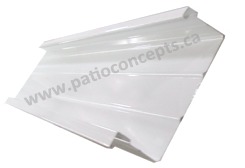 8" wide x 3" high

Features & Specifications:

The Northlander FLAT PAN Patio Cover Systems come with... Instructions, fascia gutter, aluminum side fascia, 12" wide 'Flat' pans, screws, sealant, downspout assembly, beam and posts as necessary.

All quoted units are designed to meet 2009 IBC standards using live load ratings of 20 - 80 pounds per square foot (psf) and wind ratings of 50-100 miles per hour (mph) respectively.

Simple span load table given below for your convenience

All front heights should be calculated on a specification of
a 1" - 2" drop per foot of projection.

Both Wall attached and Free-standing systems available

Projection (pan direction) is indicated as the distance away from the house, from the house wall to the front of the unit.

Width is the distance along the house wall that the unit is to span.

Your posts will need to be spaced according to the IBC standard determined by the required load rating (see point #1).
Northlander Patio Cover is built to your specifications

Durable baked-on enamel finish never needs painting

Northlander Patio Cover has built-in large capacity gutter system

Strong, sturdy all aluminum construction resists Canadian weather.

Provide protection without complicated construction

(1) Downspout assembly is quoted unless otherwise requested

Flashing requirements must be purchased locally
Designed and engineered for loading in your area.


Also available in 'free standing configurations.
Insulated Patio Cover "Quick Links..."
Tools You May Need...click here
Pictures and Details Page
Click here for all you will need to get a quote from us...

Prices in ($) CAN

for Delivery Included to most major centres
Call 1.800.922.4760 to place your order
Apart from the specials listed below, almost any size you need is possible. We would be pleased to provide you with a quotation. In order to get a quote... You will FIRST need to call your local building department to get the required load ratings for your area. Click here to know what you need for a quotation...
Not included:
You will need to supply the hardware to attach the hanger channel to the home/trailer

You will need to supply any flashing that you may desire to further waterproof your back-wall connection.
Maximum Panel Simple Span Load Table

Projection

.032" Pan Thickness
.040" Pan Thickness
Attention:

This table does not
replace the customer's requirement to research
their own municipal
load requirements!

6'
75 lbs./sq. ft.
over 80 lbs./sq. ft.
7'
56 lbs./sq. ft.
75 lbs./sq. ft.
8'
42 lbs./sq. ft.
57 lbs./sq. ft.
9'
34 lbs./sq. ft.
45 lbs./sq. ft.
10'
27 lbs./sq. ft.
36 lbs./sq. ft.
11'
22 lbs./sq. ft.
30 lbs./sq. ft.
12'
19 lbs./sq. ft.
25 lbs./sq. ft.
13'
n/a
22 lbs./sq. ft.
14'
n/a
19 lbs./sq. ft.
Our units are pre-engineered systems that have been approved by qualified, provincially approved engineers. Our systems are rated according to 2009 International Building Codes. Snow drifting and wind uplift have not been considered in the wall attached units. If local specifications require such engineering, these standards can be met at an additional cost. Current approved standards assume an importance factor equal to 1 & wind exposure equal to "B". If you require documentation and registered engineering stamps we will submit your request with your quotation. We cannot talk to engineers about such items prior to knowing what it is you require.
Click through the side navigation buttons or click on pictures and other links throughout the site to view our easy to navigate online catalog and photo gallery. You'll see how easy it is to install these sturdy and attractive quality do it yourself kits, and what a great addition they would make to your home. Full Information & Pricing on all products throughout this WEB Site. Enhance your lifestyle with a Do-It-Yourself Kit.

Patio Concepts Inc. offers you a complete range of patio covers and carports...

**Please check with your permit office before purchasing a building kit. Obtaining necessary permits is the sole responsibility of the purchaser. Customers agree to hold Patio Concepts Inc and the manufacturer free of any liability for improper installation, maintenance and repair.
Call: 1-800-922-4760 and talk with our experts. We provide personal service and advice on your selection. Please call
or email us with your questions and installation advice and tips. We are here to serve. *Delivery Included within Canada. (*Some remote and island ferry access areas subject to a surcharge)

**Please note that most items are custom made and are not returnable**
Current delivery is in the 3-4 week range.
To ensure customer satisfaction and correct order details, we 'purposely' do not maintain a shopping cart site.
Call Toll Free 1.800.922.4760 to place your order!
Other related items our customers have purchased...