You are here: Home > Patio Covers > Insulated Patio Covers
do it yourself kits...

Screened Enclosure Kits, Patio Cover Kits, Arbor & Pergola Kits,
Garage Shelter Kits and Retractable Deck Cover Kits and MORE!!!


Prices are in Canadian Dollars for delivery to Canadian addresses

My Patio Concepts

1 . 8 0 0 . 9 2 2 . 4 7 6 0
Delivery Included!
All pricing includes delivery to your home, business or cottage address in or
near most major centres within Canada.
√ Delivery Included!* | √ No Handling Fees | √ Only applicable taxes are extra
*Some exceptions may apply. *Click for details

Do you have questions?
We would love to help! Call and talk it through with us.

Call: 1-800-922-4760...

We provide personal service and advice on your selection. Please call or email us with your questions on deck size, clearances, installation advice and tips. We are here to serve.
Insulated Awnings & Patio Covers
Laminated Aluminum Roof Panels / Polystyrene Core
This year, put up that new insulated patio cover that you've been planning for years! This do it yourself kit consists of "engineered" polystyrene core insulated panels which come in three thicknesses.

To support your new panels we have extruded aluminum beams and posts - all in an unlimited size range! Designed for "on site" final cuts by you, this unit adds value and functionality to any home while giving the homeowner the satisfaction and flexibility to do it themselves.

Made in Canada with high quality materials, our insulated patio covers are maintenance free come with full instructions and are designed according to IBC standards meeting all municipal load ratings.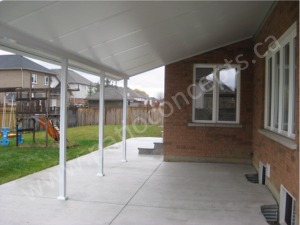 Whatever size you need... we can look after you. With 3 thicknesses of polystyrene core insulated aluminum panels, these patio cover / carport kits can accommodate most snow loading requirements. A simple beam and post arrangement keeps the patio cover or carport clean and sharp looking.

These interlocking panels can be walked on, insulate against heat transfer and you get a finished ceiling. Easily screened in at a later date!
Check out our specials listed below!
Features & Specifications:
Facing: ASTM 3105 alloy maintenance free aluminum skins with baked on enamel finish, topped with our unique Krystal Kote clear coat

Core: Type II high density expanded polystyrene

Adhesive: Moisture curing, one part, 100% solids, non-volatile, type III urethane adhesive, bond strength (AL – EPS 1.5#) = 20 – 33 PSI

Extrusions: ASTM 6063-T6 alloy, Fu = 30,000 PSI, Fy = 25,000 PSI

Built in gutter with large water capacity and radiused inlet to reduce over spray

White, Sand or Earthstone colours (Earthstone is not permitted as a top roof skin colour)

3", 4 1/2" and 6" thicknesses

Engineered roof panel system can be configured for any lb./sq. ft. snow load rating and up to 120mph winds (see load tables given below)

The size of beam, beam placement, number of posts and distance between posts are all dependant on your local load rating requirements...
(see "how to get a quotation" page)

Factory painted columns and beams.

Posts with wall thicknesses of .090" gauge extruded aluminum.

Designed and engineered for loading in your area.

Don't hesitate to call us toll free with questions 1.800.922.4760

You will need to find out your wind and snow load rating from your local building department in order for us to stand behind International Building Code standards

Downspout assemblies are quoted unless otherwise requested


Insulated Patio Cover "Quick Links..."
Tools You May Need...click here
Pictures and Details Page
Click here for all you will need to get a quote from us...


Prices in ($) CAN for Delivery Included to most major centres

Call 1.800.922.4760 to place your order
Apart from the specials listed below, almost any size you need is possible. We would be pleased to provide you with a quotation. In order to get a quote... You will FIRST need to call your local building department to get the required load ratings for your area.

Click here for all you will need to get a quote from us...
Not included:
You will need to supply the hardware to attach the hanger channel to the home/trailer

You will need to supply any flashing that you may desire to further waterproof your back-wall connection.
Maximum Panel Simple Span Load Table

Projection

3" Roof Thickness
4.5" Roof Thickness
6" Roof Thickness
Attention:

This table does not
replace the customer's requirement to research
their own municipal
load requirements!

8'
76 lbs./sq. ft.
over 80 lbs./sq. ft.

over - 100 lbs./sq. ft

10'
47 lbs./sq. ft.
79 lbs./sq. ft.
97 lbs./sq. ft.
12'
29 lbs./sq. ft.
52 lbs./sq. ft.
67 lbs./sq. ft.
14'
20 lbs./sq. ft.
38 lbs./sq. ft.
54 lbs./sq. ft.
16'
n/a
29 lbs./sq. ft.
49 lbs./sq. ft.
18'
n/a
n/a
35 lbs./sq. ft.
Our units are pre-engineered systems that have been approved by qualified, provincially approved engineers. Our systems are rated according to 2009 International Building Codes. Snow drifting and wind uplift have not been considered in the wall attached units. If local specifications require such engineering, these standards can be met at an additional cost. Current approved standards assume an importance factor equal to 1 & wind exposure equal to "B". If you require documentation and registered engineering stamps we will submit your request with your quotation. We cannot talk to engineers about such items prior to knowing what it is you require.
Call: 1-800-922-4760 and talk with our experts. We provide personal service and advice on your selection. Please call or email us with your questions and installation advice and tips. We are here to serve. *Delivery Included within Canada. (*Some remote and island ferry access areas subject to a surcharge)
Obtaining necessary permits is the sole responsibility of the purchaser. Customers agree to hold Patio Concepts Inc. and the manufacturer free of any liability for improper installation, maintenance and repair.

**Please note that most items are custom made and are not returnable**
Current delivery is in the 3-4 week range.
To ensure customer satisfaction and correct order details, we 'purposely' do not maintain a shopping cart site.
Call Toll Free 1.800.922.4760 to place your order!
Other related items our customers have purchased...