do it yourself kits...
Screened Enclosures, garage shelters and window awnings
Do it yourself window awning kits, deck enclosure kits, garage shelter kits, and backyard storage shed kits are all worthwhile home improvements. You'll enjoy them now, and you'll appreciate the value they add to your home should you
ever go to sell.
Stop the sun from fading carpets, draperies and upholstery by installing a new window awning. We have both fabric and aluminum window awnings in a fixed or roll up format.

Our manual or motorized vertical rollup shade blinds are a perfect late afternoon protection from the sun.
Backyard accents like garden arbours are an easy and inexpensive way to add elegance to any garden-scape.

My Patio Concepts Bookmark this page!
Get a FREE!... Arbor | Trellis | Planter Box
Buy a Veranda Jardin screen enclosure before October 31st and receive one of the following products - FREE!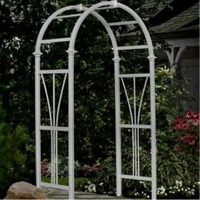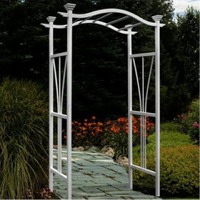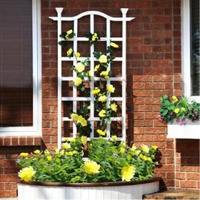 Athens Arbor Dublin Arbor London Arbor Windsor Box Athens Trellis London Trellis
Quick links on this page...
JARDIN OCTAGON Specific Links...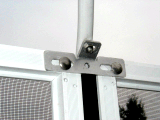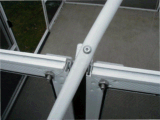 Through bolt construction...

No cables...

No plastic tips...
Shown on the left...
GZ 9210 (12' round)
Vinyl Top Colours


| | |
| --- | --- |
| | Choice of roof colours... |

General Information

Read through the following description of this high quality room. Then be sure to click on this link (click) that brings you to the picture page which shows you, by means of pictures, each aspect of the room you just read about!
Our 14 ounce vinyl tops are made in our own factory. We use a heavier, stronger vinyl with a smoother surface than our leading competitors and the vinyl panels are heat sealed together in both the free standing and wall attached units, not sewn.

We have a roof tightening system built into the end of the roof rafters which extends 5" beyond the screen walls providing a roof overhang.

Screen Panels are a 1/8" thick extruded aluminum - light weight, but very strong. Panels are 44" in width and 74" high with pre-installed fiberglass screening, top to bottom. The supporting bar is positioned at bottom third of panel for maximum viewing pleasure. The height of the screen panels gives easy walk through and allows for a cooler room on the hot sunny days.

Roof tensioning system is built into the end of the roof rafters and is accessed from within the overhang using a large thumb nut for ease of operation.

All stainless steel hardware for superior strength & long life.

The combination of roof overhang, roof tensioning system and roof pitch means that water accumulation on the roof is virtually eliminated.

All panels are bolted together. No silly cables or plastic pieces. The supplied hardware is stainless steel for maximum strength and weather-ability.

This is a very high quality, long lasting gazebo style room that is easily assembled within a few hours.

Full set of clear or vinyl windbreaker and privacy panels available to enclose your unit from the weather. Check out our Options Page for details and pricing.

JARDIN OCTAGON Specific Links...

The room SHOULD be screwed to a deck or patio for maximum strength in summer storms.

This is a very high quality, long lasting gazebo style room that is easily assembled within a few hours.

The unit comes with instructions.

Frame color choices are White or Taupe (dark brown) - see below.

Full one year warranty.
Pricing
Model #
Size / Shape
Number of
Panels
(44" x 74")
UNIT ONLY
UNIT WITH...
FULL SET OF PRIVACY PANELS
(Savings of $20.00 per screen panel)
Price ($) CAN
Credit Card
Price ($) CAN
Certified Cheque
Price ($) CAN
Credit Card
Price ($) CAN
Certified Cheque
GZ-9109
11' / Round
9
$1980.00
$1881.00
$3175.00
$3016.44
GZ-9210
12' / Round
10
$2180.00
$2071.00
$3508.00
$3332.60
GZ-9311
13' / Round
11
$2280.00
$2166.00
$3741.00
$3553.76
GZ-9412
14' / Round
12
$2380.00
$2261.00
$3974.00
$3774.92

How to Measure
Size

A

B

# of Panels

11' Round (GZ 9109)
131 1/4"
106"
9 x 44" x 74"
12' Round (GZ 9210)
145 1/4"
111"
10 x 44" x 74"
13' Round (GZ 9311)
159 3/8"
112"
11 x 44" x 74"
14' Round (GZ 9412)
173 3/8"
116 1/2"
12 x 44" x 74"

Frame Details

Frame measures 1-1/8" wide x 3/4" extruded aluminum with baked on enamel finish - in white or taupe. Extrusion is 1/8" thick


44" out-swinging door is standard


Full one year warranty.


All pricing in ($) CAN Dollars

The triple ply, heat sealed (welded joints), 14 ounce soft vinyl roof is made to last!

Vinyl Color Choices - Green, Blue, Gray, Taupe, Burgundy, Terra Cotta or White
Patio Concepts Inc. carries over 100 different combinations of patio rooms in sizes and colors designed to fit most decks and patios. If you don't see it here, call us, we will be pleased to advise and assist.

We give you the advantage of an additional room to your house, without the high cost of construction. These spa covers and 3 season sun rooms are not generally considered a permanent room, and so you may not need building permits or contractors and you should not have an increase in property taxes.
Call: 1-800-922-4760 and talk with our experts. We provide personal service and advice on your selection. Please call or email us with your questions and installation advice and tips. We are here to serve. *Delivery Included within Canada. (*Some remote and island ferry access areas subject to a surcharge)
Obtaining necessary permits is the sole responsibility of the purchaser. Customers agree to hold Patio Concepts Inc. and the manufacturer free of any liability for improper installation, maintenance and repair.

**Please note that most items are custom made and are not returnable**
Current delivery is in the 3-4 week range.
To ensure customer satisfaction and correct order details, we 'purposely' do not maintain a shopping cart site.
Call Toll Free 1.800.922.4760 to place your order!
Other related items our customers have purchased...