Motorized Solar Shade Screens
SunSetter EasyShade Vertical Window Shades
The ultimate vertical solar screen!

Comes with a top-of-the-line Somfy Altus 40 motor hidden inside the housing

Comes with a 12 ft. cord, ready to be plugged into any 110V outlet.

You can operate up to 4 Motorized Easyshades with the push-button remote control included.

You can even open and close the Motorized EasyShade from inside your home, making it perfect for second floor use.

Tracks up and down perfectly every time on guiding cables.

Unrolls to 7 feet, but can be partially unrolled to any length.

Simple installation -- installs in minutes with simple tools.

You choose if you want the electric cord on the right or the left end of your shade.

Blocks 90% of sun, wind and mist, and lets you enjoy the view without the glare.
It has an industry-leading Somfy Motor hidden inside the housing. All it takes is one touch of the Remote Control, and the shade unrolls from 0 to 7 feet, or anywhere in between. It retracts securely into its protective aluminum housing just as easily when you want to enjoy the sun.

Motorized EasyShades roll up perfectly straight every time on guiding cables - no tangles, no uneven slats like interior blinds! They can be operated easily, even from inside your house, but they don't take up any interior space, leaving more room inside for drapes and other interior design ideas. They give your home a clean, uncluttered look.

Like all EasyShades, the Motorized EasyShade stops the sun outside, before it can heat up your home. It Maintenance-free, it stays on your home all year. No need to take it down in winter. 5-Year Manufacturers Limited Warranty.
Width
The actual screen width is 3 in. less than the EasyShade® width.
SunSetter EasyShade® (Motorized)
Credit Card ($) CAN
Certified Cheque ($) CAN
4' x 7'
$694.48
$659.76
5' x 7'
$725.94
$689.64
6' x 7'
$757.40
$719.53
7' x 7'
$794.91
$755.16
8' x 7'
$819.71
$778.73
9' x 7'
$869.32
$825.86
10' x 7'
$931.03
$884.48
11' x 7'
$974.59
$925.86
12' x 7'
$1043.56
$991.39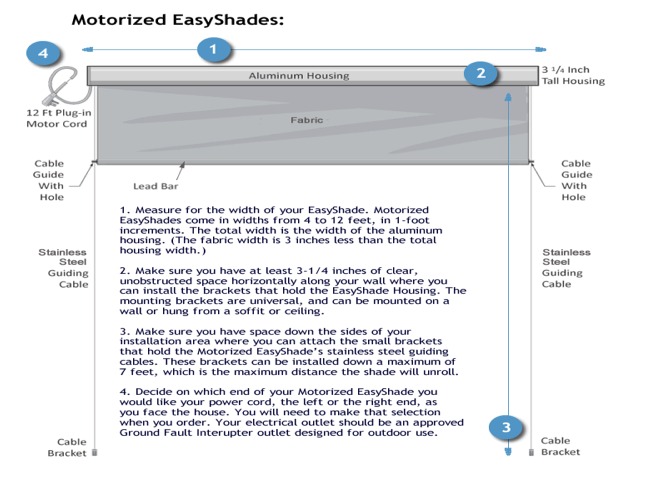 Call: 1-800-922-4760 and talk with our experts. We provide personal service and advice on your selection. Please call or email us with your questions and installation advice and tips. We are here to serve. *Delivery Included within Canada. (*Some remote and island ferry access areas subject to a surcharge)
Obtaining necessary permits is the sole responsibility of the purchaser. Customers agree to hold Patio Concepts Inc. and the manufacturer free of any liability for improper installation, maintenance and repair.

**Please note that most items are custom made and are not returnable**
Current delivery is in the 3-4 week range.
To ensure customer satisfaction and correct order details, we 'purposely' do not maintain a shopping cart site.
Call Toll Free 1.800.922.4760 to place your order!
Other related items our customers have purchased...