Elegant and well-designed, The Tuscany Pergola is the perfect solution to add shade and create an outdoor room for relaxing and entertaining. The Tuscany pergola is created from premium vinyl and is maintenance free

My Patio Concepts Bookmark this page!


The Venetian Pergola

Pergola Width: 145.4" (outside edge to edge)

Pergola Depth: 145.4"

Pergola Height: 96.6"(inside)

Pergola Height: 107.5" (outside)

Pergola Post Size - 5" x 5"

There is no in ground allowance for this structure

Color: White

All pricing is the delivered cost!

Price: $1699.99 / Dollars (#VA42022)




▪ Delivery Included, No Handling Costs, No extra charges!
▪ Shipping: Kit format - 286 lbs / UPS Ground in 5 boxes
| | |
| --- | --- |
| | Call 1.800.922.4760 to order! |
These pergolas are manufactured by molding premium, hi-grade polymers around traditional structural elements to create the classic look of wood without the traditional maintenance. In other words, you get the classic look of wood without the headaches. Just the occasional rinse with a garden hose is all you need to do to keep your pergola looking great year after year. They are backed up with a 20 year warranty.

Venetian Pergola

(PDF Format)


Includes...
■ Ground Anchors
■ Cement Anchors
■ Post Extension Kit
■ Cottage Picket Wings
■ Cottage Gate
■ Garden Seat
... and more!
Oasis Venetian Pergola Assembly Video 4

■ Won't crack, split or mildew
■ Unaffected by chemicals or sea air
■ Non toxic
■ Made of advanced high grade polymers
■ Virtually maintenance free
■ Withstands extreme weather
■ Easy installation

This pergola is classic and stylish. Featuring a 10x10 footprint, this pergola has many accessories to dress it up and make it more functional. 20 year warranty, maintenance free.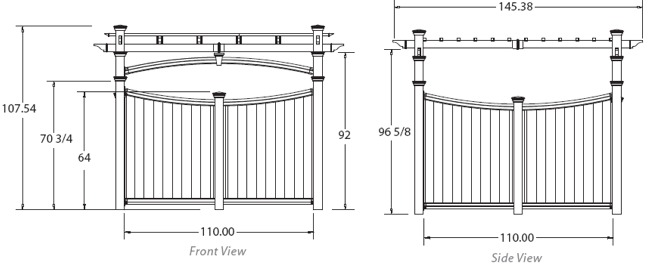 Call: 1-800-922-4760 and talk with our experts. We provide personal service and advice on your selection. Please call or email us with your questions and installation advice and tips. We are here to serve. *Delivery Included within Canada. (*Some remote and island ferry access areas subject to a surcharge)
Obtaining necessary permits is the sole responsibility of the purchaser. Customers agree to hold Patio Concepts Inc. and the manufacturer free of any liability for improper installation, maintenance and repair.

**Please note that most items are custom made and are not returnable**
Current delivery is in the 3-4 week range.
To ensure customer satisfaction and correct order details, we 'purposely' do not maintain a shopping cart site.
Call Toll Free 1.800.922.4760 to place your order!
Other related items our customers have purchased...