You are here: Home > Retractable Patio Awning > SunSetter VISTA Manual Retractable Patio Awnings
SunSetter VISTA | Manually Operated Retractable Patio Awning
Fabric Patio Covers and Sun Shades Canada
Create shade, protection and comfort anytime you want. The SunSetter® retractable awning makes your deck or patio as much as 11° cooler, while guarding your family and guests from harmful UV rays. It also helps lower your air conditioning bill by shading windows and glass doors from direct sunlight.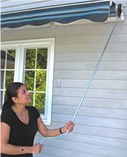 Available widths: 10 ft. to 18 ft., in one-foot increments.

All aluminum framing in a beige baked on enamel finish

Manually operated dual arm double cable system for easy opening and retracting

Opens and closes in less than a minute with a hand cranked gear mechanism

Projection: Up to 10' 2" from your house (the 10 and 11 foot awnings extend out 9 feet).

This model can be partially opened in any position.

Awning comes pre-pitched at 29" over 10' - - can be adjusted after installation


Fabric and Color choices: Available in two fabric choices:
(1) Woven acrylic fabric in 16 decorator color choices (Click here for selection & details)
(2) Traditional laminated (vinyl) 14 oz. fabric in 12 color choices (Click here for selection & details)


Both fabrics block up to 99% of harmful UVA & UVB rays.

Minimum vertical height under overhangs needed for installation: 7 ft. 6 in.


Choose from a wall mount bracket or a soffit mount bracket >>>>>>>>>>


Click here to review how to measure for your SunSetter retractable awning

Can be owner installed: Yes, easily, in just 2 to 3 hours.

Can be installed on wood, brick, stucco, aluminum and vinyl siding: Yes.

Click here to review the installation instructions for your SunSetter retractable awning

Click here for a 7 minute installation video for the Vista Series Awning

Can be installed directly on eaves and overhangs: Yes, just choose the soffit mount brackets when you order.

Warranty: 5 years Manufacturer Limited Warranty.
Call: 1-800-922-4760 and talk with our experts. We provide personal service and advice on your selection. Please call or email us with your questions and installation advice and tips. We are here to serve. *Delivery Included within Canada. (*Some remote and island ferry access areas subject to a surcharge)

Obtaining necessary permits is the sole responsibility of the purchaser. Customers agree to hold Patio Concepts Inc. and the manufacturer free of any liability for improper installation, maintenance and repair.


**Please note that most items are custom made and are not returnable**
Current delivery is in the 3-4 week range.

To ensure customer satisfaction and correct order details, we 'purposely' do not maintain a shopping cart site.
Call Toll Free 1.800.922.4760 to place your order!
Other related items our customers have purchased...