do it yourself kits...
Screened Enclosures, garage shelters and window awnings
Screen House Solutions
Shop by Category
Additional Categories
■ Oblong / Oval Style Screen Rooms
■ Round / Octagon Style Screen Rooms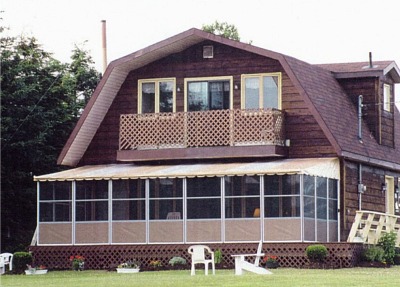 Screen Room Season!
Jardin Replacement tops...
Click here..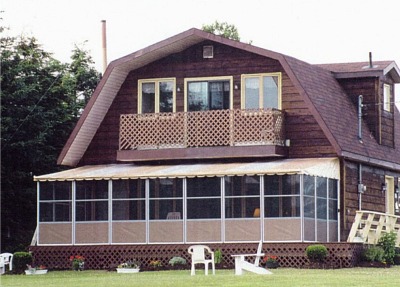 Screen Room Season!
Jardin Replacement tops...
Click here..

Do it yourself window awning kits, deck enclosure kits, garage shelter kits, and backyard storage shed kits are all worthwhile home improvements. You'll enjoy them now, and you'll appreciate the value they add to your home should you
ever go to sell.
Our Represented Manufacturers are... Veranda Jardin
Proudly made in Canada





Prices in ($) CAN for Delivery Included to most major centres
Options
Comments
($) CAN Price
Roof Color Choices
Navy Blue, Hunter Green, White, Medium Gray, Burgundy & Taupe
Colors may not show
accurately on your monitor

14 oz vinyl Included

Frame Color
White or Taupe
Included
Additional Doors
(Not available on round models)
Single Sliding Door
$290.00 each
Single Windbreaker panels
1/3 size for bottom panel
In clear or smoked Mylar
$75.00 each
Single Windbreaker panels
1/3 size for bottom panel
Any color vinyl
$80.00 each
Double Hinged Mylar Window panels
2/3 size for top panel
Any color vinyl, clear or smoked Mylar
$120.00 each
For wall attached / three sided units only: Change Back-wall Roof height
from standard 98"
Minimum downward adjustments:
For all projections = 91"

Maximum upward adjustment: UP to 107"

Use Standard 98" price
PLUS $134.00
Replacement Tops
for Veranda Jardin models only
Always available

Dependant on size required


Decoration Kits for "GZ" SQUARE/RECTANGULAR Spa Enclosures Only


Frame Details
Frame measures 1-1/8" wide x 3/4" extruded aluminum with baked on enamel finish - in white or taupe.


Extrusion is 1/8" thick


44" top rolling smooth sliding door is standard


Full one year warranty.

The triple ply, heat sealed (welded joints), 14 ounce soft vinyl roof is made to last!

Vinyl Color Choices -
Green, Blue, Gray, Taupe, Burgundy, Terra Cotta or White
Patio Concepts Inc. carries over 100 different combinations of patio rooms in sizes and colors designed to fit most decks and patios. If you don't see it here, call us, we will be pleased to advise and assist.

We give you the advantage of an additional room to your house, without the high cost of construction. These spa covers and 3 season sun rooms are not generally considered a permanent room, and so you may not need building permits or contractors and you should not have an increase in property taxes.
Call: 1-800-922-4760 and talk with our experts. We provide personal service and advice on your selection. Please call or email us with your questions and installation advice and tips. We are here to serve. *Delivery Included within Canada. (*Some remote and island ferry access areas subject to a surcharge)
Obtaining necessary permits is the sole responsibility of the purchaser. Customers agree to hold Patio Concepts Inc. and the manufacturer free of any liability for improper installation, maintenance and repair.

**Please note that most items are custom made and are not returnable**
Current delivery is in the 3-4 week range.
To ensure customer satisfaction and correct order details, we 'purposely' do not maintain a shopping cart site.
Call Toll Free 1.800.922.4760 to place your order!
Other related items our customers have purchased...