You are here: Home > Retractable Patio Awning > Brasilia Slim Retractable Patio Awnings > How to Measure
do it yourself kits...

Screened Enclosure Kits, Patio Cover Kits, Arbor & Pergola Kits,
Garage Shelter Kits and Retractable Deck Cover Kits and MORE!!!


Prices are in Canadian Dollars for delivery to Canadian addresses

My Patio Concepts

1 . 8 0 0 . 9 2 2 . 4 7 6 0
Brasilia Slim|How to Measure for your Awning

Fabric Patio Covers and Sun Shades Canada

This specialized deck awning is made of extruded aluminum and high quality acrylic waterproof fabric and fully retracts into a cassette. Offered in a manual (hand crank) version or motorized with remote control. It can be wall or soffit mounted. Its aluminum housing closes completely protecting the acrylic fabric against all severe weather conditions.

Available in multiple colors and sizes, for both the casing and the canvas.


The Brasilia Slim Patio Awning

■ Warranty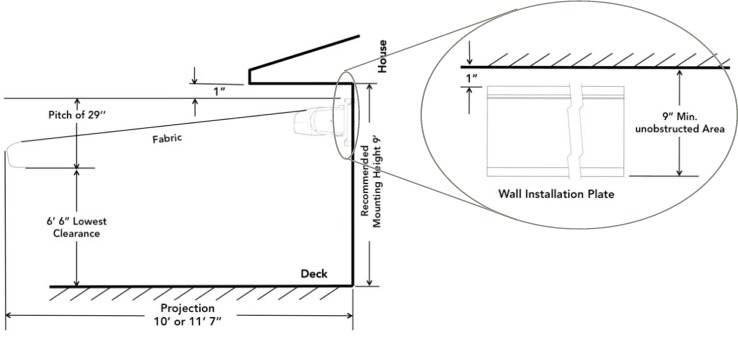 Determine the width of the awning. This requires a clear span, with no obstructions. The awning needs to be mounted on a continuous uninterrupted plane. Be sure that light fixtures or down spouts are not in the way.

Please be aware that although the awning rail requires a minimum of 8" (inches) to mount you should allow additional space above the awning (at least 1") for proper operation of the awning. The awning will require a total of 9" (inches) of space to function properly.

A minimum of 7'6" is required from the deck or patio to the top of the mounting space. The manufacturer suggests a mounting height of 9' is optimal. See following chart for more details. Note that the awning pitch can be adjusted up or down after the unit has been installed.

Make certain that there are no light fixtures or other obstructions in the way of installation.
C = measurement from top of mounting space to deck

Front Edge Clearance

Projection of 8'

Projection of 10'

Projection of 11'7"

7'6" (90")

70"

65"

61"

8' (96")

76"

71"

67"

8'6" (102")

82"

78"

73"

9' (108")

88"

83"

78"

9'6" (114")

94"

89"

85"

10' (120")

100"

95"

91"
The chart above denotes the maximum clearance with the pitch in the factory set position. Your new awning has been preset to this position at the factory. It does not require any further adjustment. The Brasilia SLIM comes with flex-pitch built in so you may adjust the pitch as you see fit!

Call: 1-800-922-4760 and talk with our experts. We provide personal service and advice on your selection. Please call or email us with your questions and installation advice and tips. We are here to serve. *Delivery Included within Canada. (*Some remote and island ferry access areas subject to a surcharge)

Obtaining necessary permits is the sole responsibility of the purchaser. Customers agree to hold Patio Concepts Inc. and the manufacturer free of any liability for improper installation, maintenance and repair.


**Please note that most items are custom made and are not returnable**
Current delivery is in the 3-4 week range.

To ensure customer satisfaction and correct order details, we 'purposely' do not maintain a shopping cart site.
Call Toll Free 1.800.922.4760 to place your order!
Other related items our customers have purchased...